Created: 2016-03-23 10:45 | Last change: 2016-03-23 10:45
The British carmaker Riversimple has revealed a new hydrogen-powered car that is set to go into market trials later this year as part of the FCH JU funded project SWARM.
Every aspect of the Rasa has been created and interrogated for simplicity, efficiency, lightness, strength, affordability, safety and sustainability. And the name Rasa is a nod to that blank sheet of paper – Tabula Rasa means 'Clean slate' in Latin.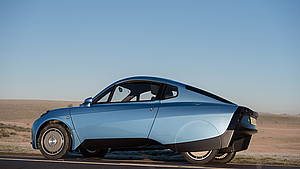 This car is a two seater 'network electric' car, powered by a hydrogen fuel cell. Weighing 580kg - about half the weight of a small petrol or diesel car - it has a potential range of up to 300 miles (482 km) on 1.5kg of hydrogen - a fuel-economy equivalent of 250mpg.
Riversimple will produce a run of 20 trial Rasas to be used by individuals later this year, in what it calls a beta trial.
The car will not be sold but offered under a service agreement, with repairs, maintenance, insurance and fuel expenses covered by a fixed monthly-fee, with the aim of lowering the cost of hydrogen-powered motoring.
For further information see: www.riversimple.com